Whiskey Barrel and Turquoise Wedding Ring
Regular price
$199.99 USD
Regular price
$199.99 USD
Sale price
$199.99 USD
Unit price
per
Sale
Sold out
Introducing our exquisite Whiskey Barrel Ring, designed to stand out with its unique blend of classic and modern styles. This stunning ring features a beautiful inlay of genuine whiskey barrel wood, adding a touch of rustic charm to its sleek black ceramic band.

The whiskey barrel wooden ring is expertly crafted, showcasing the natural grain and texture of the aged whiskey wood. The inlay is framed by two lines of vibrant turquoise, creating a striking contrast against the black ceramic.

Perfect for any occasion, this ring makes a bold statement while remaining understated and elegant. It's an ideal choice for a wedding ring, anniversary ring, or promise ring. Whether you're dressing up for a special event or adding a touch of sophistication to your everyday look, this ring is sure to impress.

Turquoise is a beautiful blue-green mineral that has been used in jewelry making for thousands of years. Here are some of the key facts about turquoise in jewelry making:

History: Turquoise has been used in jewelry making for thousands of years, particularly by indigenous peoples in the Americas. It has been found in ancient Egyptian tombs, Persian jewelry, and Native American jewelry.

Color: The color of turquoise can range from pale blue to a bright, vivid green. The color is caused by the presence of copper and iron in the mineral.

Hardness: Turquoise has a hardness of 5 to 6 on the Mohs scale, which makes it relatively soft compared to other minerals. This means that it can be easily scratched or damaged, and care must be taken when wearing and cleaning turquoise jewelry.

Treatment: Many turquoise gemstones are treated to enhance their color and durability. Common treatments include stabilizing the stone with resin or wax, or dyeing the stone to enhance its color.

Symbolism: Turquoise is often associated with protection, strength, and good fortune. It has been used in amulets and talismans for centuries to ward off evil spirits and protect the wearer from harm.

Versatility: Turquoise can be used in a variety of jewelry styles, from traditional Native American designs to contemporary, modern pieces. It is often paired with silver, but can also be combined with other materials like gold or leather.

Overall, turquoise is a beautiful and versatile gemstone that adds a pop of color and character to any piece of jewelry. Its rich history and cultural significance make it a popular choice for those looking to add meaning to their jewelry collection.

About Whiskey Barrel Wood:

Whiskey barrel wood, also known as barrel wood or bourbon barrel wood, is a unique and popular material that is used in a variety of applications, including furniture, home decor, and jewelry making.

Whiskey barrel wood is typically made from American white oak, which is used to age bourbon whiskey. The barrels are charred on the inside to impart flavor to the whiskey, and after several years of use, the barrels are retired and often sold or repurposed.

The wood from these retired barrels is highly sought after for its unique properties. The charring process gives the wood a beautiful, rich color and imparts a distinct aroma that is reminiscent of whiskey. The wood is also known for its durability and resistance to rot and decay, making it an excellent choice for use in furniture and other outdoor applications.

In jewelry making, whiskey barrel wood is often used as an inlay in rings, pendants, and bracelets. The wood adds a rustic, natural element to the piece and provides a unique story behind the material. The use of whiskey barrel wood in jewelry is particularly popular among men, as it often has a rugged, masculine feel.

Overall, whiskey barrel wood is a beautiful and unique material that is prized for its rich color, distinct aroma, and durability. Its use in jewelry making is just one example of the many ways in which this versatile material can be repurposed and enjoyed.

Benefits of Black Ceramic:

Black ceramic is a type of advanced material that is becoming increasingly popular in the jewelry industry due to its many benefits. Here are some of the key benefits of black ceramic:

Durability: Black ceramic is extremely durable and resistant to scratches, making it an ideal material for jewelry that is designed to be worn on a daily basis. It is also resistant to corrosion and will not tarnish over time, ensuring that your jewelry will remain looking like new for years to come.

Lightweight: Despite its strength, black ceramic is surprisingly lightweight, making it comfortable to wear for extended periods of time.

Hypoallergenic: Ceramic is an excellent choice for those with sensitive skin or allergies to traditional metals like gold or silver. It is hypoallergenic and will not cause any irritation or allergic reactions.

Affordability: Compared to other precious metals like gold or platinum, black ceramic is an affordable option that still offers the same level of durability and style.

Versatility: Black ceramic is a versatile material that can be combined with other materials, like wood or gemstones, to create unique and stylish pieces of jewelry.

Overall, black ceramic is a great choice for those looking for a durable, stylish, and affordable option for their jewelry collection. It offers a range of benefits that make it a popular choice among both men and women.

Specifications:
- Material: Black Ceramic, Whiskey Barrel, Turquoise
- Width: Men's Standard 8mm
- Please note, real material is used so color may vary
- 100% Waterproof!

Shipping

- Rings ship in 1-3 business days

- All Rings Ship Free

- U.S. Domestic Shipping: 3 - 7 Days

- You will receive an email with tracking number once your order ships!

- All rings ship from Southern Washington!
Return | Resizing | Warranty

Engraved Rings can't be returned or resized.

Non-engraved rings:

- 90 Day return policy: We offer a 90 day no questions asked return policy! Our goal is to create an easy stress-free ring buying experience! If you have an issue with your ring after 90 days, please send us an email and we will do our best to correct the issue!

Please keep your return shipping label provided with the ring. The label is prepaid so returns are 100% free!

- 90 Day Exchange or Resizing: If your ring does not fit, please send it back and we will send you a new one free of charge! Please note, due to the materials used we can't resize the same ring so a new ring will be sent.

- Warranty: Limited lifetime warranty! Free replacement of ring that is damaged due to manufacturing defect. Learn more on our policy page: Warranty
How To Find Your Ring Size

Select "Send me a ring sizer" and we will send you a free ring sizer!

You can also click the link below to learn alternative ways to find your ring size!
Ring Care

Avoid use of hand sanitizer while wearing the ring

Avoid wearing while gardening, using power tools, or other activities that can impact the hands.

To clean, gentle wash with hand soap

Do not use your ring to open beer/soda bottles
Ring Engraving

We offer ring engravings! Add this product to your cart along with engraving services found here:
Share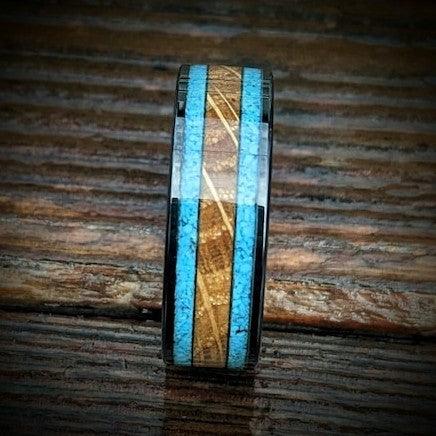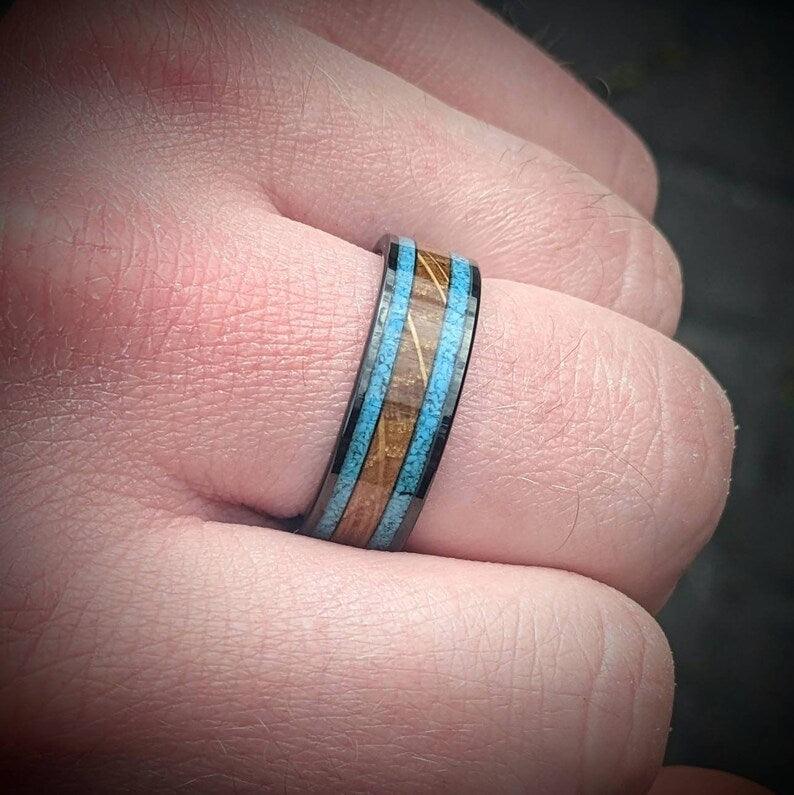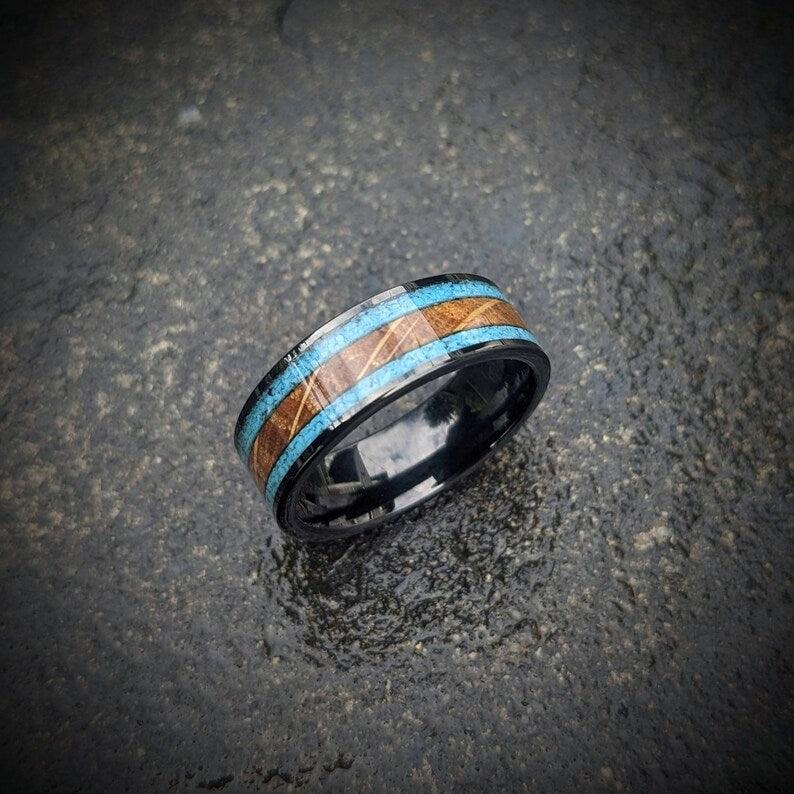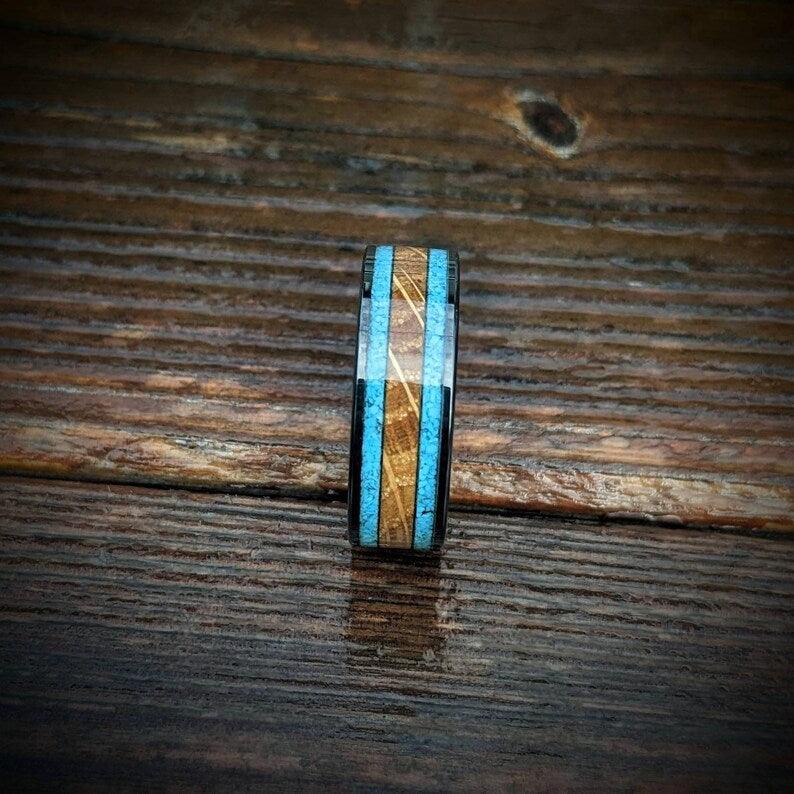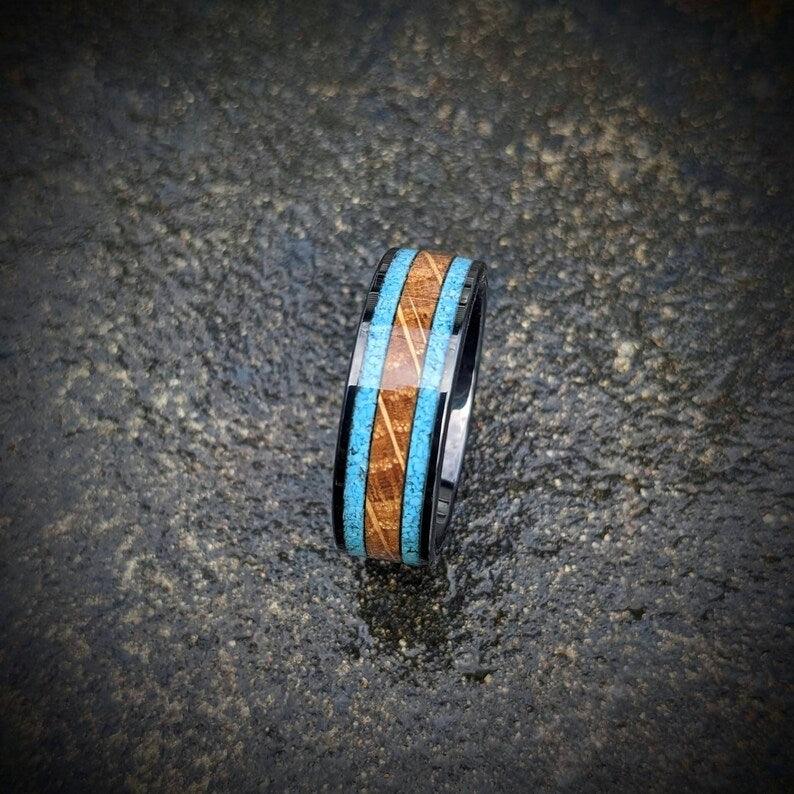 My husband loves his ring!
My husband loves his ring!
Such great quality/craftsmanship! Can't wa...
Such great quality/craftsmanship! Can't wait to give to my guy ☺️
Custom sized and perfect! Thank you so muc...
Custom sized and perfect! Thank you so much for your amazing craftsmanship.
Gorgeous and amazing quality. It was the p...
Gorgeous and amazing quality. It was the perfect gift and I love that I was able to customize it a little bit. Well made and light weight, and fits perfectly. We love it! Responsive and helpful seller kept me updated on the process every step of the way. Thank you Steven! A true artisan!
Great quality. Super easy to work with and...
Great quality. Super easy to work with and great turn around time!