Malachite Ring with Burnt Whiskey Barrel in a Tungsten Core
Regular price
$199.99 USD
Sale price
$99.99 USD
Unit price
per
Sale
Sold out
Introducing the epitome of sophistication and rugged charm - our Burnt Whiskey Barrel and Crushed Malachite Tungsten Wedding Band. This exquisite piece of craftsmanship is more than just a symbol of love; it's a work of art that tells a story of tradition, nature, and timeless commitment.
At its core, this remarkable wedding band features the strength and resilience of tungsten, known for its remarkable durability. The flat design adds a modern edge, while the materials we've chosen for the inlay and centerline give this ring its unique character.
The burnt whiskey barrel inlay showcases the rich, warm hues of aged oak. This wood, once the vessel for crafting fine spirits, now adorns your finger in a mesmerizing display of history and craftsmanship. The inlay captures the essence of bygone distilleries and the passion of master distillers.
Nestled within the heart of this extraordinary band is a vibrant stripe of crushed green malachite. This natural gemstone, renowned for its deep green color and spiritual significance, radiates with beauty and positivity. It symbolizes growth and transformation, a perfect metaphor for the journey you're embarking on as a couple.
The union of burnt whiskey barrel and crushed malachite embodies the union of two souls. As you exchange vows and don this ring, you're not just celebrating your love, but also your unique stories and the incredible journey that lies ahead.
This wedding band is designed for those who appreciate the finer things in life, who find beauty in tradition, and who seek adventure in the everyday. It's a tangible reminder of your commitment, a testament to your shared experiences, and a piece of nature's wonder all in one.
Whether you're toasting to love or reveling in the great outdoors, this Burnt Whiskey Barrel and Crushed Malachite Tungsten Wedding Band is the perfect accessory for the modern couple. It's more than a ring; it's a symbol of your love's depth and the memories yet to be made. Choose this exceptional piece, and wear a piece of history and nature on your finger as you embark on your journey of forever.
Specifications:
Width: 8mm
Material: Whiskey Barrel, Malachite, Black Ceramic
Shipping

- Rings ship in 1-3 business days

- All Rings Ship Free

- U.S. Domestic Shipping: 3 - 7 Days

- You will receive an email with tracking number once your order ships!

- All rings ship from Southern Washington!
Return | Resizing | Warranty

Engraved Rings can't be returned or resized.

Non-engraved rings:

- 90 Day return policy: We offer a 90 day no questions asked return policy! Our goal is to create an easy stress-free ring buying experience! If you have an issue with your ring after 90 days, please send us an email and we will do our best to correct the issue!

Please keep your return shipping label provided with the ring. The label is prepaid so returns are 100% free!

- 90 Day Exchange or Resizing: If your ring does not fit, please send it back and we will send you a new one free of charge! Please note, due to the materials used we can't resize the same ring so a new ring will be sent.

- Warranty: Limited lifetime warranty! Free replacement of ring that is damaged due to manufacturing defect. Learn more on our policy page: Warranty
How To Find Your Ring Size

Select "Send me a ring sizer" and we will send you a free ring sizer!

You can also click the link below to learn alternative ways to find your ring size!
Ring Care

Avoid use of hand sanitizer while wearing the ring

Avoid wearing while gardening, using power tools, or other activities that can impact the hands.

To clean, gentle wash with hand soap

Do not use your ring to open beer/soda bottles
Ring Engraving

We offer ring engravings! Add this product to your cart along with engraving services found here:
Share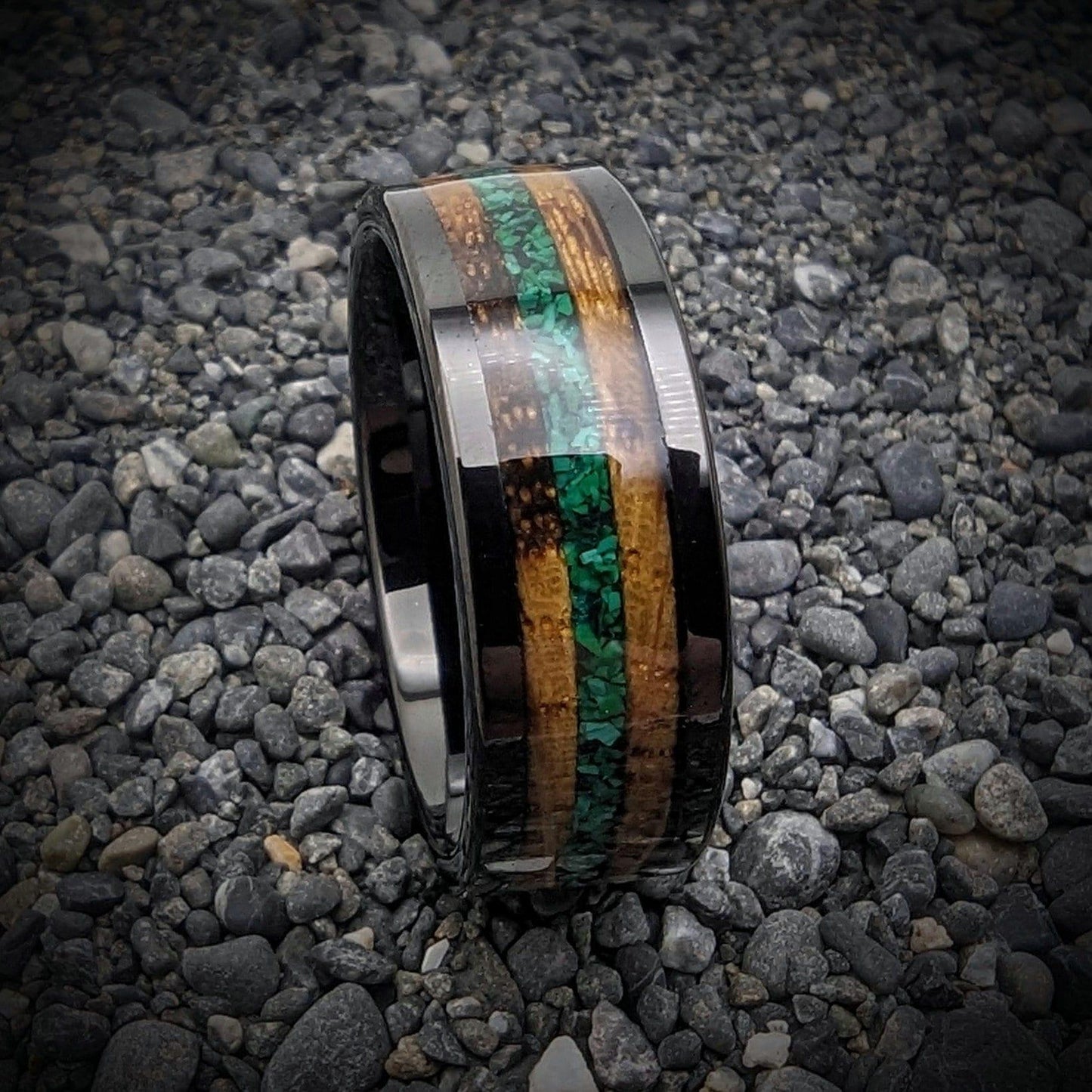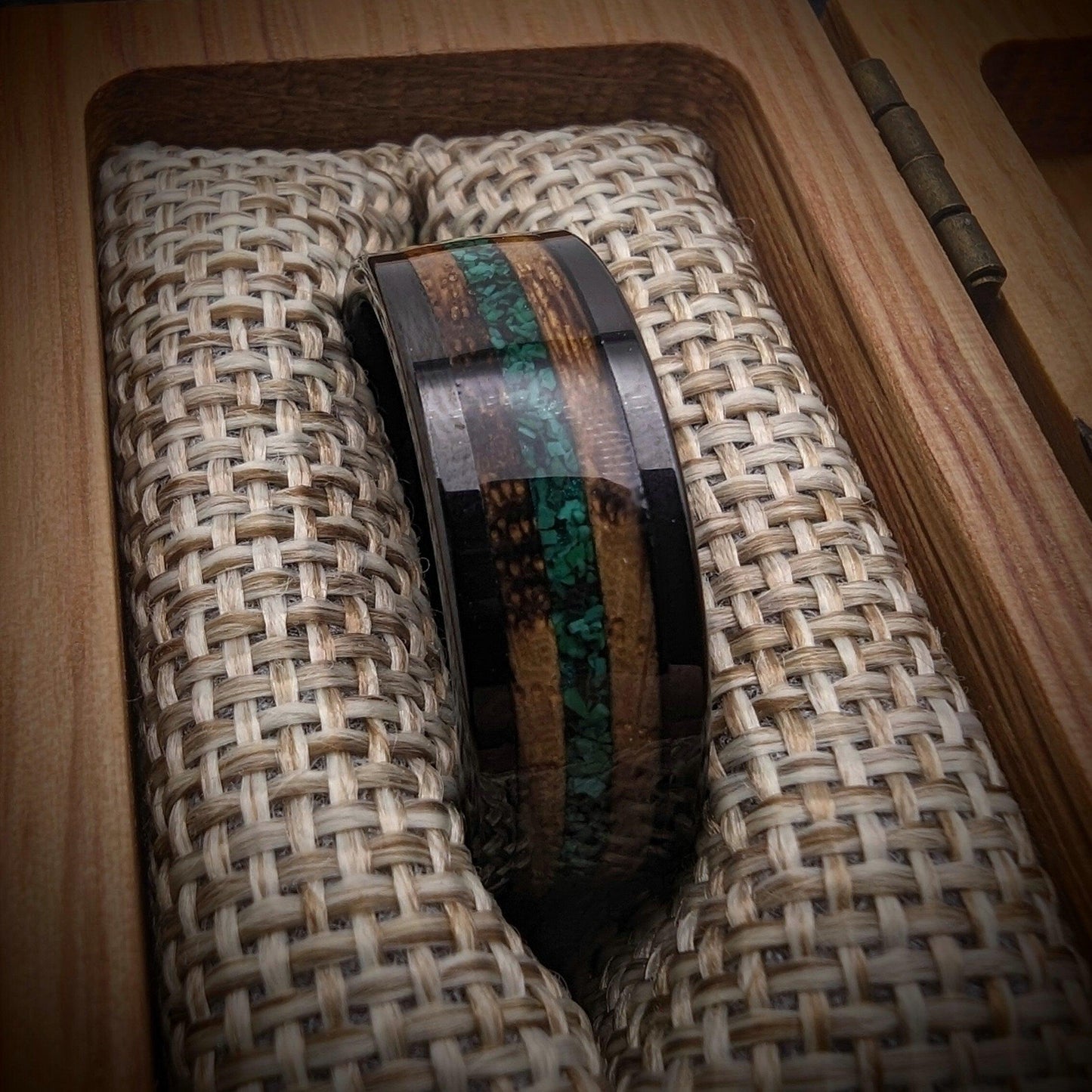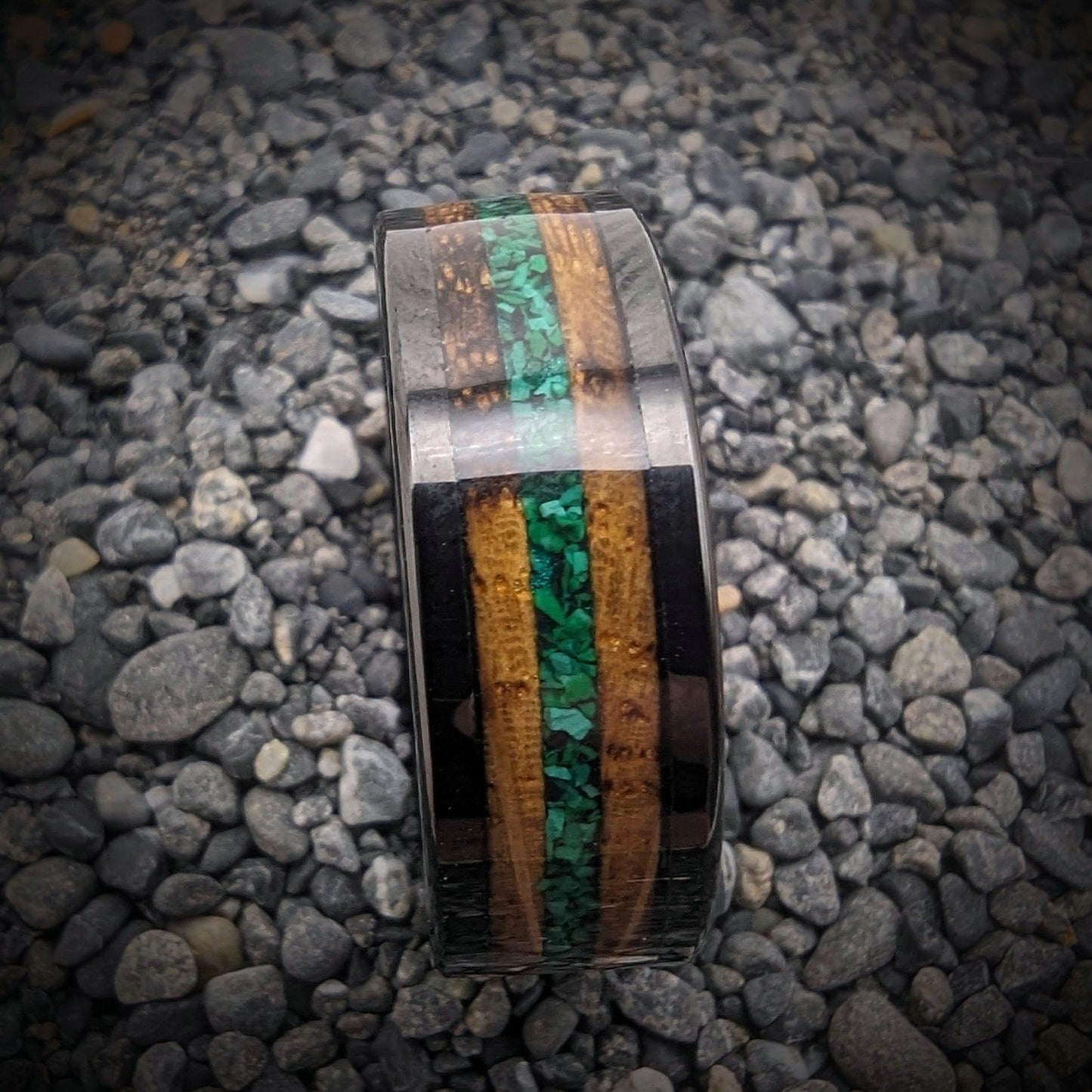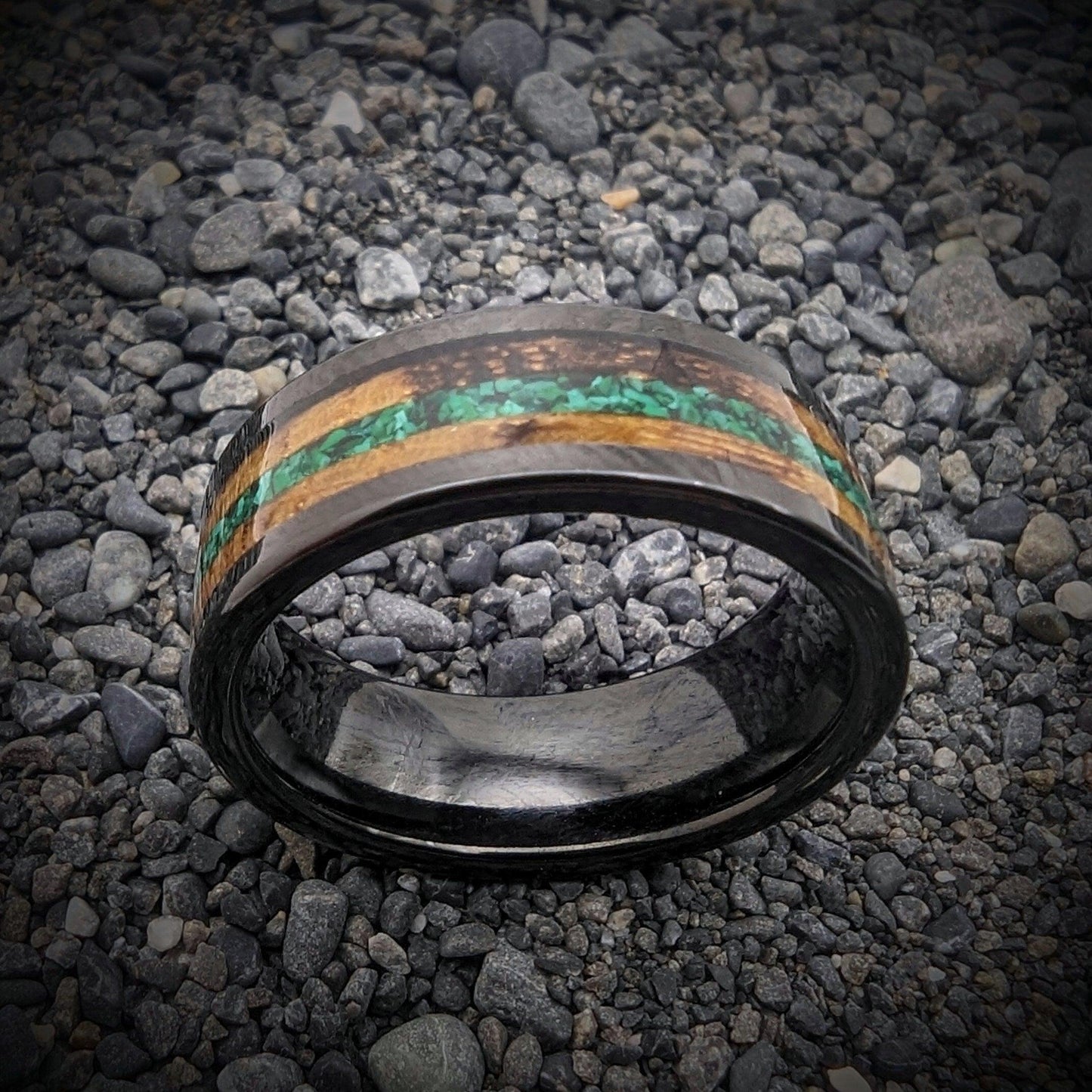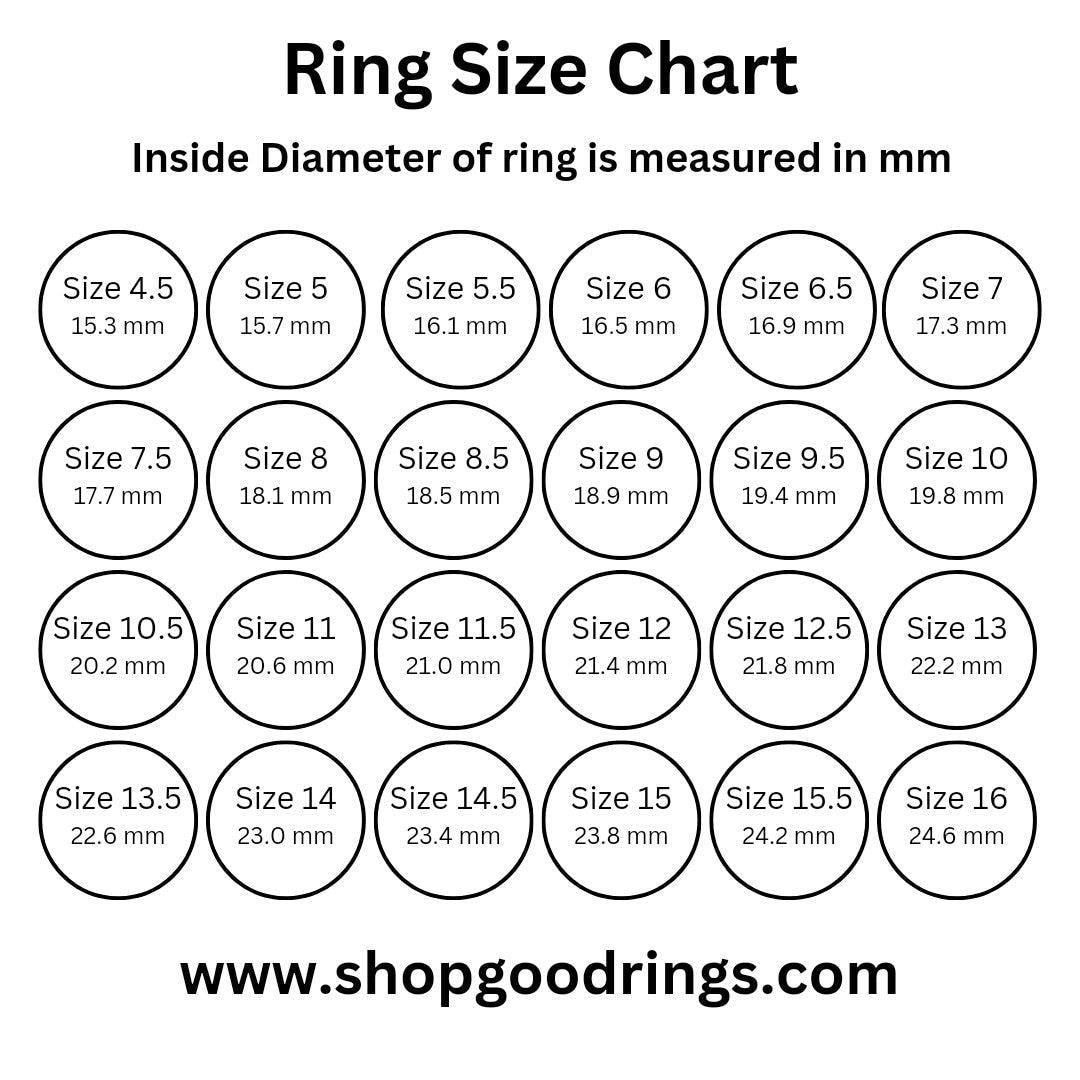 The pictures are great but this ring in pe...
The pictures are great but this ring in person is GORGEOUS. Absolutely beautifully crafted. 100% recommend ⭐⭐⭐⭐⭐
It's a nice deep green color, exactly what...
It's a nice deep green color, exactly what we wanted. Super easy process, highly recommend!